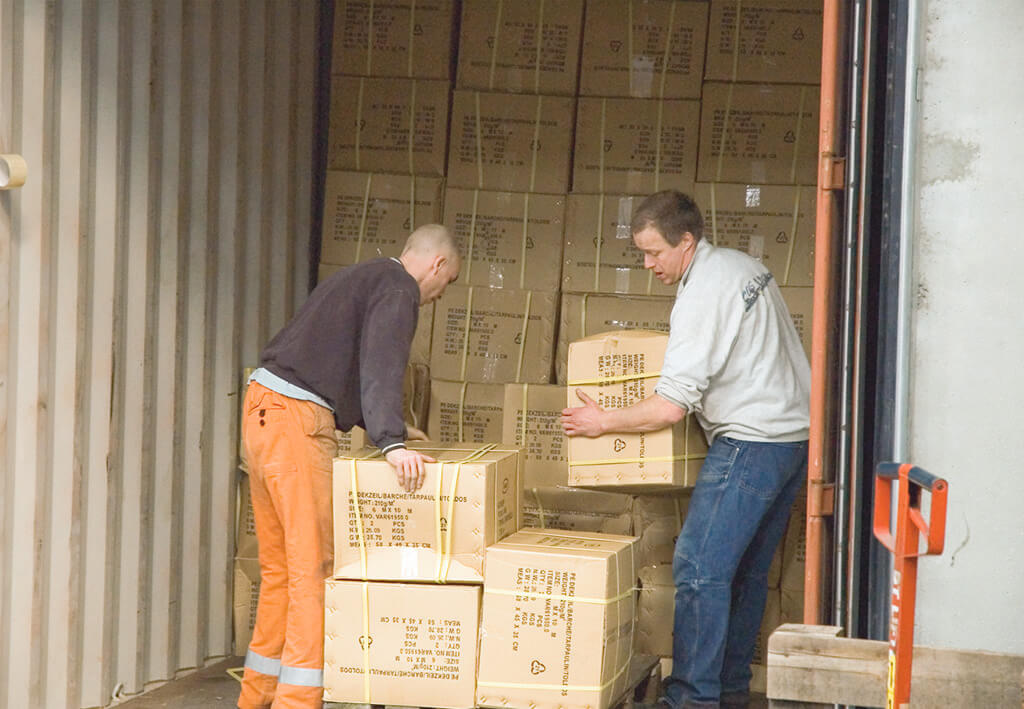 2004–2005: H&L is launched and receives its first orders
In August 2004, H&L is founded and we get to work. In December, the first sizable orders come from ADX and ODTH. In 2005, the first employees are hired as permanent staff members. In collaboration with Axis, H&L is renting a warehouse to support the refurbishment of the C&A shops. Other customers also find their way to H&L: Markelbach, Forlog, DFDS, Eurokor, Bisschops, Carga, Groep De Ceuster, Ethnicraft, Goodwill, Waeslandtnatie, I.D.P., and Logidec.
2006: First repeat customers and turnover doubles
H&L is the driving force behind a thorough reorganization of Sunny Europe. For DFDS, H&L handles Velux's goods handling. H&L will become a regular partner for unloading containers at Ethnicraft and will be called in to help set up and dismantle their exhibition stands in Brussels, Cologne, Paris, and Valencia. H&L gains the trust of all of its customers. We are doubling our turnover.
2007: Larger and larger companies are getting to know H&L
Electrabel asks H&L to check the packaging of all of the spare parts in Tihange. Damaged packaging should be replaced. This provides 8 months of work for 8 people. New Roels Display calls on H&L to complete a major display construction project in Paris. H&L is asked by Forlog to load containers at Bruggeman in Ghent. For the launch of the Nippon Shokubai project, WGN relies on H&L's expertise.
2008: Our customers are doing well, all hands on deck to follow their growth!
Unloading 200 containers of charcoal. Cleaning 500,000 bottles for Coca Cola Ghent. Elia and Wim Bosman go into business with H&L. Maersk Logistics engages H&L to start up its operations in Willebroek.
2009: A difficult year because of the crisis, but H&L takes the right decisions
The general crisis suggests that this will be a difficult year. However, the right decisions are made and H&L manages to remain standing. April 2009: DSV chooses H&L as their long-term partner to unload containers. Nova Natie, Geodis, and Fiege discover H&L; the first assignments are carried out.
2010: The best year yet, with challenging new projects
2010 will be the best year in H&L Services' history so far: a 5% growth compared to super year 2008. After a slight downturn in August and September, we start a new collaboration with ODTH. November 2010: Bridgestone chooses ATB for storing and handling their aircraft tires. ATB find their partner of choice in H&L Services, as we have the necessary flexibility to handle the fluctuating inbound flows as productively as possible.
May 2010: H&L receives an order to unload >100 containers of goods destined for Lidl. Once again, the very tight deadline poses no problem for our professional teams. April 2010: the Gates company engages 3 PL Logistics to coordinate the move of their distribution warehouse in Erembodegem. In terms of handling, 3 PL Logistics calls on the services of H&L.
Thanks to H&L's efficient approach, the move is completed 3 shifts ahead of schedule and Gates is able to stay well within the planned budget. The year is off to an excellent start. In January, our sales are up 50% and we end the first quarter at the same level as in 2008.
2011: Colruyt discovers H&L Services and entrusts them with all container shipments to Africa
Colruyt discovers H&L Services and entrusts them with all container shipments to Africa. With a 50% increase compared to the first quarter of 2010, it is confirmed that we are on the right track. This year our team has already been expanded thanks to five new permanent contracts.
January 2011: Alpro works with Sotramar for the handling of their barges that supply soy beans to their factory sites. Sotramar engages H&L Services to unload the barges, unload the containers via a lifting platform, and immediately place the empty containers back on the same barge.
The growth seen in 2010 seems to continue. 2011 has been the "grand cru" year for H&L Services so far: more than 8,000 TEU handled, a 30% growth in turnover and a nice expansion of the customer portfolio with Kuenhe & Nagel, Blue Store Storage, Gosselin, and Varo.
2012: A year with a difficult start, but bright prospects
First quarter: The loss of two major customers (one due to traffic changes and the other due to economically unjustifiable margins), combined with a weaker economic climate, caused a major downturn in the first quarter. But we are confident that we will be able to make up for this in the following quarters.
Second quarter: Despite the world's challenging economic situation, we cannot complain. In the second quarter, H&L Services has been able to pick up where it left off. Contacts with Kuenhe & Nagel and Sumitomo have turned into confirmed collaborations, ensuring that we will still be able to finish 2012 in as strong a position as 2012. There are many other contacts in the pipeline, but we will talk about that later: better not count your chickens (before they hatch).
Third quarter: In this quarter, we can look back on a 25% revenue growth compared to the third quarter of last year. This has not yet restored all of our lost sales, but it does suggest that we will end 2012 on a positive note. This is especially pleasing given that this forms the basis for 2013, when we expect to see significant growth again. Meanwhile, we can fall back on a team of over 30 trained and skilled people who climb mountains every day. When first seeing our team at work, new customers often say: "It's crazy what those men can do. If only we had known it sooner!" That's quite the compliment …
Fourth quarter: All in all, we end 2012 on a positive note. We recorded a 20% growth in the second half of the year compared to the second half of 2011. We have made up for most of the 45% loss in sales at the beginning of the year, only 10% to go. This is a good starting point for 2013, especially taking into account that we will also start working for F W D from 2013, accounting for about an extra 700 containers per year. We look to the future with renewed optimism. However, what is much less pleasing is that we temporarily lost our office manager, Patrick. He will be out for almost half a year for medical reasons. We have promised him a lot of work upon his return. Meanwhile, Wim Conincx takes over the reins. Another newcomer is Sven Van Vlimmeren, who has been familiarizing himself with the field since May in order to start doing more commercial work in the near future. Expectations for 2013 are high!
2013: A year of growth, new ideas, and an expanding customer base
First quarter: We are happy to report that Patrick's surgery went great and he is recovering very well. In the foreseeable future, he will be back part-time. Businesswise, we are on track again. In the first quarter, we increased sales by more than 50% compared to last year and reached the highest average since we started. The staff list has grown to the equivalent of 25 full-time employees.
Second quarter: After a superb first quarter, the second seems to be faltering a bit. Still, we have grown by over 30% compared to last year! If we can continue on this path, we will still be doing an impressive 10% better than 2011, our best year so far. Meanwhile, new ideas have been launched that we expect to become concrete over the next few months. The best news is that Patrick is almost fully recovered and will be up and running in no time. Meanwhile, Wim has fully mastered the craft and he is proving to be an excellent backup. We regret to report that our collaboration with Sven was not the success we had hoped for, so our paths will part.
Third quarter: Patrick has now fully recovered and is welcomed back in to the office. August and September are exceptionally good months in terms of turnover.
Fourth quarter: As good as the third quarter was, the fourth has been far less optimistic. November, in particular, remained below all expectations. Pressured by the new measures taking effect from 1/1/2014, some tough decisions had to be taken, but that is part of the job. Still, the customer base has grown again. Overall, 2013 has been our best year by turnover. It will not be easy to maintain this growth rate: + 17% a year, since 2005.
2014: After 10 years of hard work, we are the largest company in Belgium in our industry
First quarter: By mutual agreement, the cooperation with 2 clients has been discontinued, as we feel that we cannot offer enough added value. This allows us to focus even more on our core business. That decision is reflected in our turnover, but we are sure we will make up for this. T C L and Manna have been brought in as new customers.
Second quarter: Our existing customers have confirmed our partnerships and are relying on us even more. We are receiving a considerable number of new projects, even to the extent of generating over 30% extra turnover compared to last year, despite some clients reducing their orders. Four more people have been hired.
Third quarter: Anyone who thought that summer was the time to take it easy could not be more wrong. This has been a quarter to be proud of. We recorded an unprecedented  turnover this quarter. Apart from a much-needed one week break in August, our team dug deep.
Fourth quarter: It might be a tad boring, as we can report another success story. Our revenue is up another 24% compared to a weaker fourth quarter in 2013. For the full year, we have generated a 17% revenue growth. With this turnover we can safely say that we are at a nice cruising speed. If we can keep this up, we are on a roll. BUT we are not going to let this lull us to sleep; we are more alert than ever. With Intertrans, we have another new client in our portfolio. Handling 12,500 TEU last year, we can proudly say that, after 10 years of hard work, we've become the largest company in Belgium in our industry.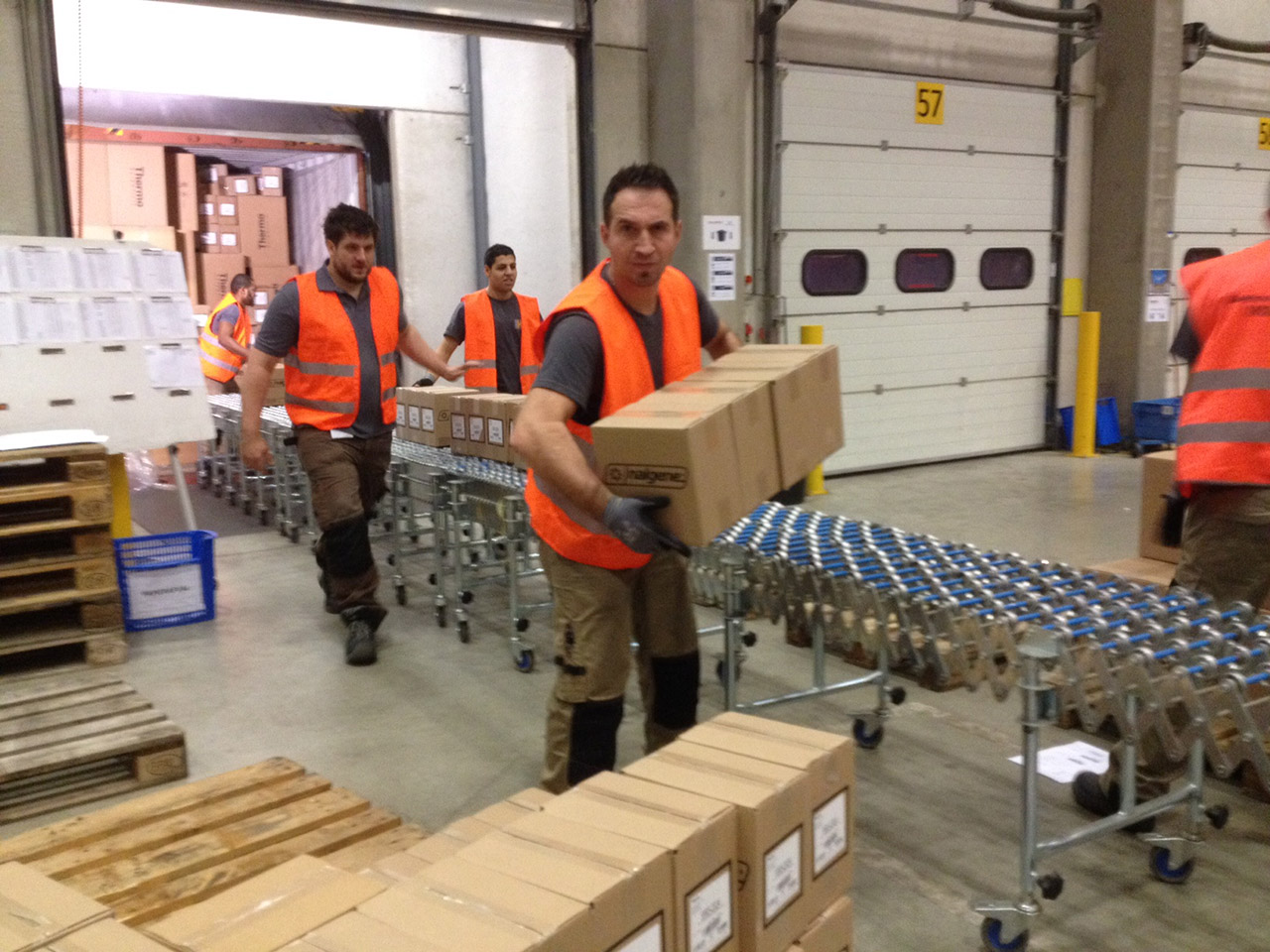 2015: Our employee base increased to over 30. We continue to grow by double digits
First quarter: We're celebrating once again, as our turnover peaks. February reports a 65% growth compared to last year, the best monthly and daily turnover we have achieved to date. But, much more importantly, in early February we were told that the sword of Damocles had fallen in our favor! The court of appeal upheld the judgment of the Court of First Instance, thus acquitting us of all sins. Now that all uncertainty is removed, we feel reassured. A subsidy dossier was approved by VLAIO to support the development of a new growth strategy, which we started right after approval. We immediately started working on launching a new website to communicate even better and we have hired two new people.
Second quarter: Unlike the first quarter, there is a slight decline compared to last year – 3%. The overall activity has fallen back without any specific reason. What does delight us is our involvement in a new activity that is starting up at one of our existing clients.
Third quarter: Like last summer, but mainly due to the new activity and an old returning customer, we are again reaching new heights and even doing 10% better than in 2014. Heartfelt thanks to everyone (both employees and interims) who helped make this happen.
Fourth quarter: We have continued the momentum of the third quarter (with a slight dip in September) and landed two new customers with a lot of potential. During the annual survey of our existing customers, all of them gave us complete confidence for the year to come. Meanwhile, the workforce has grown to more than 30 FTE; last year we employed an average of 34 people per day. Ever since the 2008–2009 crisis we have continued to grow by double digits year-on-year.
2016: A year of growth and reorganization in favor of continuity
Overall, operations and growth for 2016, with sales up by almost 10%, are a continuation of the path taken since 2009. Staff numbers continue to rise, with 32 staff on the payroll and counting. Overall, we employed an average of 37 people daily in 2016, sometimes peaking at up to 50 FTE. After all, flexibility is one of H&L Services' most important assets. Our growth came mainly from existing customers, even though we also proudly added new names to the customer portfolio. Nothing earth-shattering, but it does broaden our client base. Whereas the second and fourth quarters were fairly busy, the summer was quite weak, unlike last year.
During the course of the year, we split into three employment categories at the request of the staff. The criteria for the categories were drawn up together with the employees, as well as the associated remuneration. There was some controversy, of course, but in the end the majority of the staff agreed on the new system, which also brings a clearer division of tasks. Managing director Walter turned 60. Time to plan the succession. Because H&L Services is very people-driven, we first explored the path of an MBO. But that turned out to be more complex than expected, so we are now exploring other options and constructions. Always with the aim of ensuring both short- and long-term continuity for our employees and customers.
2017: Growing without additional support would become difficult
A year where we felt that we were gradually reaching the ceiling and that growing without additional support would be difficult. Looking for additional personnel was necessary.
Not an easy task, as we expect them to go with us into the containers every day to get to know the employees, the customers, and the work. Over the summer we did stumble upon someone who wants to jump into this adventure, but who needs to finish another project first. In early November, Wolf De Vester begins his run-in period with the hope that this investment will pay off in 2018.
2018: The big bang with a 35% sales increase!
2018 was a year in which January (-5%) showed no signs of what was to come. (Wolf unexpectedly had to stop working for a few months.) We closed the first quarter with an increase of just under 10%, thanks to the start-up at Belgomilk in Kallo. By the end of the year, this newcomer will be one of our top 5 customers. During the second quarter, everything took off. In June we started working for Essers in Harelbeke and we were able to record an increase of just under 30%. With this increase, the need for more support once again became apparent and we started looking for reinforcements.
The terribly hot summer added to this and we were only too happy to find a much-needed reinforcement in Dany Van Beylen, who joined the club in September. He will take the operations in the Kempen under his wing. Meanwhile, we have already recruited more than 10 additional people, just in time for the upcoming fourth quarter. Dany had virtually no time to settle in, his workload went from a lot to much more. On top of that, Walter took the experienced strongmen for a trip.
Distrilog came to expand our customer base at the end of October. We achieved a more than 50% increase in turnover over the entire fourth quarter. In the month of December, some days more than 70 employees were out and about. At the end of the year, 20 more employees were added to the payroll. Overall, the turnover was up by 35% compared to 2017. The staff worked up a sweat. What a bunch of great guys, finishing the ride unscathed.
2019: H&L Services is starting to become THE go-to company in its business sector
After a very grueling fourth quarter in 2018, there was a need for a breather. However, the next huge sales growth was waiting around the corner. Obviously, this had to do with the new traffic (Belgomilk and Distrilog) that we had started in 2018 and continued in the new year. In January, we surprised everyone with a whopping 65% increase in sales compared to January 2018, without too much difficulty. Consequently, the first quarter ended with a revenue growth of more than 30%. A great beginning to the year.
The second and third quarters were not particularly spectacular, although we remained above 2018 levels. So we had time to dot the i's with additional recruits in every department. While we feared a decline in the fourth quarter, compared to 2018, newcomer Colruyt pulled us through. What's more, we even outperformed in Q4 and we could end the year with a nice 15% growth. This obviously translated into job openings as well, and by the end of 2019 the count is at 49 FTE's.
In 2019, we were also working on continuity for the future, which culminated in attracting two new shareholders. Patrick and Wolf signed the share register on 12/13/2019, becoming full partners.
2020: "Ooh what a year"
The year started promisingly; in February we started a new project for Van Moer that would give us even more stability, with an additional volume of +- 10,000 TEU on an annual basis. When the first containers arrived at Van Moer in Grobbendonk, it soon became apparent that we needed to scale up to a crew of 20 or more staff. For the first time we hired external management to help manage our team expansion. Volumes in Grobbendonk soon grew to 50 TEU per day on top of the other ongoing projects.
Of course, everything changed on March 16 … a lockdown was announced. Slight panic: how would we continue after this? We contacted all of our customers to ask their opinion, but quitting was definitely never on our mind. We were able to continue to operate as normal. By agreement, only assignments from clients for whom we played an essential part were taken on and our volume fell a bit, but not immediately. We would end the first quarter with almost 30% growth before it declined.
Taking advantage of the situation, some customers were – not unreasonably – rethinking their way of working with us and started trying out alternatives. We felt that this would make it clear whether or not we could really make a difference. And, as it turned out, we were able to start working for them again, thus confirming that our offer is valuable.
In the second quarter we could still look back on sales growth of almost 10%, which was certainly not bad considering the circumstances. In Q2, we also took the opportunity to fine-tune the organization of the new project so that we would have a solid basis for its continuation. At the end of June, everything seemed to be slowly getting back on track. We were able to unload our first containers in Luxembourg for our client Intertrans. We had accepted work on a small project of 700 TEU over 3 months, a nice trip for our staff who, of course, stayed overnight there.
Business getting back on track made for a very strong third quarter, with an absolute climax in week 38, in which over 80 staff on average were on the schedule. Talk about catching up. From an unexpected corner, Lucide also came to us as a new customer. Q3 accounted for a 40% increase in sales. Q4 continued along this line and we also appeared on the radar of Inex, another great reference for our guys in Ghent.
All in all, we can say that Corona's 2020 year was one to quickly forget, but it put us much more firmly on the map. We ended the year with a 28% growth in turnover and our payroll counts more than 60 FTE's.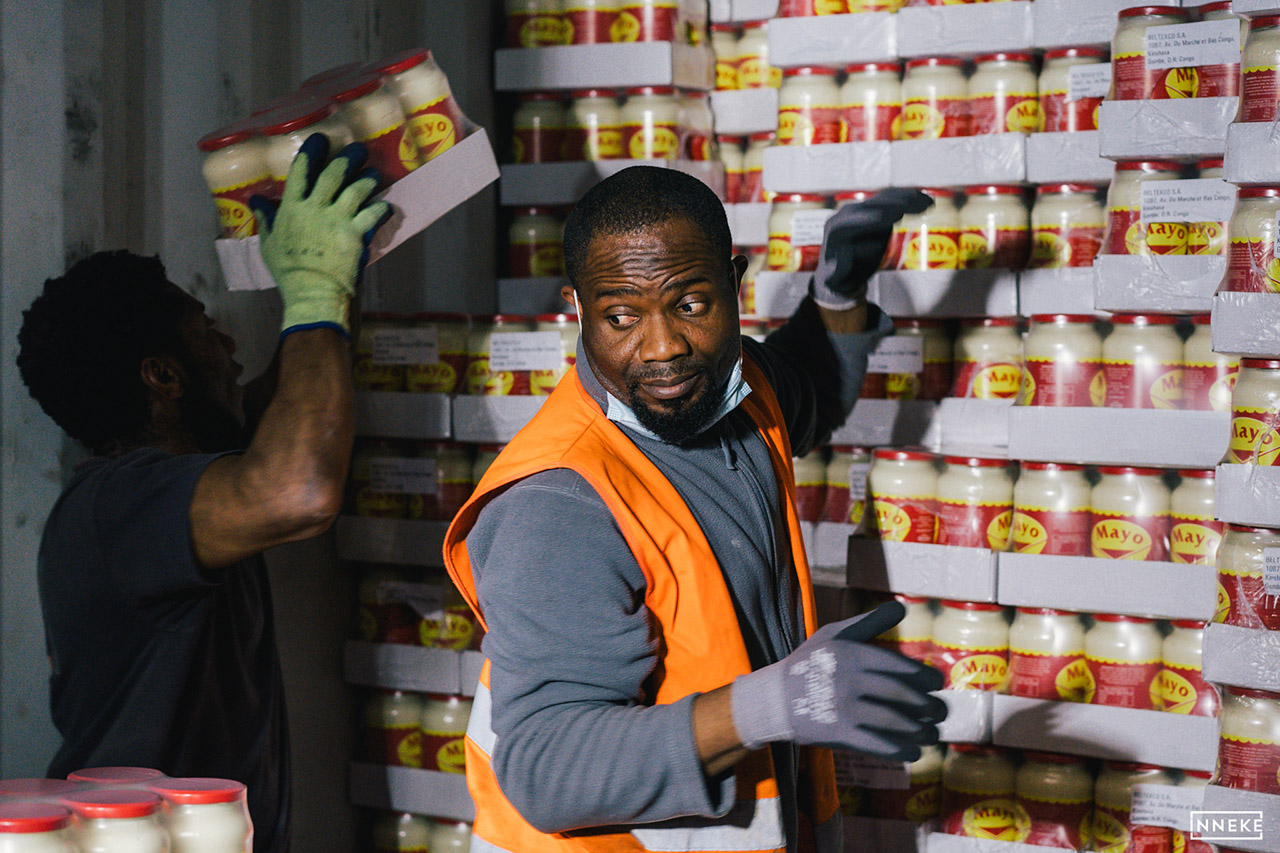 2021: Turnover times 2.3 over a period of 4 years
It's starting to sound a bit trite, but our success story isn't stopping. In 2021, Covid again failed to slow us down. Of course, we had to manage the difficult conditions, as well as the rest of the economy, but we think it is fair to say that we handled it in the right way.
In the first half of the year, we simply continued on with the momentum we had in 2020 and still managed to win another great customer with Eutraco. We were becoming less and less dependent on one big customer, thus spreading the risk.
It might have been too good to be true … On July 2 we were faced with a cyberattack. During the night of July 1 to 2 our IT provider was hacked, which we had not experienced before. Suddenly everything was gone; no mails, no schedule, no history, nothing. We had to make do and fly blind for a while, hoping we wouldn't have any major accidents along the way. As of the weekend, we were able to fall back on our way of working from 15 years ago and got back on track. It was accompanied by the necessary misery, but everything gradually turned out all right. In the aftermath, we decided to shift up a gear and put everything in the cloud.
In 2020 we had a nice project in Luxembourg during the summer, this year, however, that was not the case, resulting in a decline of +- 10% during the summer months.
Everyone was able to enjoy the wet summer to recharge their batteries and that might just have been what we needed. In September, orders kept filing in and we had days where we employed 90 or more people. The outlook for Q4 was good.
In mid-October, the management team went on a weekend to visualize the future and, additionally, to draw up a plan that we intend to try to stick to. Focus on preserving what we have, with more attention to support at work in general. Partly because of Covid, our operation was somewhat diluted, though there were always opportunities that we could take advantage of.
September's volumes maintained and even increased. From mid-October, we regularly had to disappoint customers due to lack of capacity, to the extent that it appeared to become a structural problem. We had never experienced this before!
As usual, there was some decline toward the year-end, which was actually a welcome breather. However, orders were already coming in for early January.
As of 01/01/2022, 10 new contracts were drawn up, pushing our workforce toward 75 FTE's.
We closed 2021 with more than 40,000 TEU on the counter, a 15% increase compared to last year. The outlook for 2022 is good, with some more news in the pipeline.
2022: Too good to be true? Not-so-good news for our CEO
We started the year brilliantly, partly thanks to H. Essers (who has found its way back) generating no less than a 25% increase in turnover in the first quarter. This was also the quarter in which the war in Ukraine began and Covid quietly faded into the background. Meanwhile, the workforce has increased to more than 75 FTE's, meaning we can take a beating. To handle 150 to 200 TEU daily, we need all hands on deck.
The second quarter remained at 2021 levels, but we still ended the first half of the year with nice growth figures of 15%, with new customers joining here and there. To keep everything running smoothly, some more people were recruited, giving a total amount of up to 85 people by the beginning of July. Meanwhile, energy prices were rising and some gray clouds were appearing left and right.
In May, our CEO was diagnosed with Kalher's disease, which put a damper on the festivities, but again we will have to learn to live with this. The tasks were divided, so that it did not have too much impact on our organization and operation. We didn't hang our heads.
In the third quarter, champagne bottles were popped and some days we peaked at over 100 employees on the job. In this quarter, too, we recorded an increase in sales of more than 20%.
And then there was the fourth quarter, were things about to take a turn? Back in September, we already sensed that our positive streak was not going to last … The impact of world events was also going to affect us. With a few little projects, we still kept running, but we did see an initial decline in business and turnover dropped by just under 10%.
Finishing 2022 with another 10% growth in turnover, over 40,000 TEU handled and 85 FTE on the payroll, we are proud of our achievements.
2023 appears as if it might be a little less cheerful …